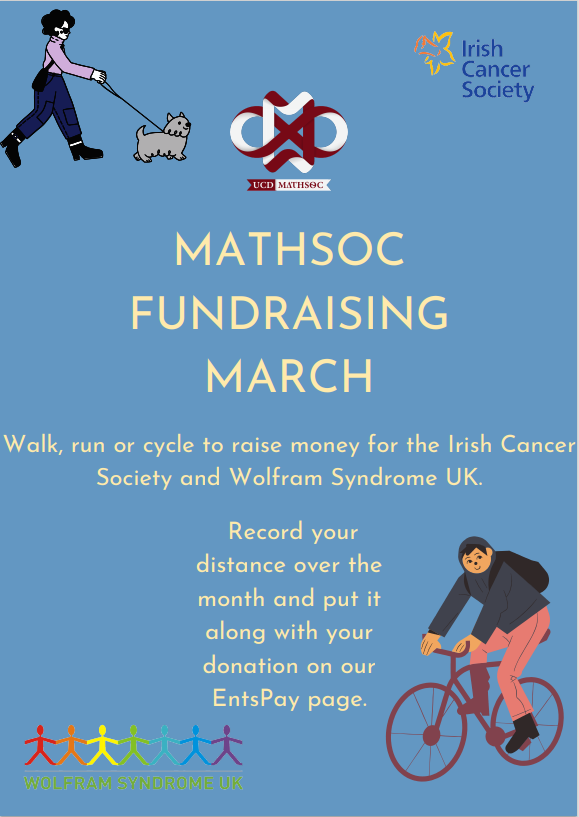 UCD Mathematical Society UCD Actuarial & Financial Society UCD Internet Society UCD Arts Society UCD Philosophical Society UCD Biological Society UCD Physics Society
This event involves participants walking/running/cycling as much as they feel comfortable with during the month of March. Participants will then record the distance they have travelled (using a fitness watch, phone etc.) and input this value, alongside their name to our fundraising page on EntsPay. They can then donate any amount to the site.
The proceeds of these donations will be split 50/50 between the two charities (Irish Cancer Society and Wolfram Syndrome UK). We would ask all participants to share their activity and/or donation to their social media platforms so the event can get more traction and hopefully more donations to these two great causes.
You do not have to exercise to donate, but we would like as many people to get fit and have fun as possible!
We do not intend for this event to be competitive in any way and hope that all participants do not push themselves too far, as it is meant to be fun!
Please maintain social distancing and observe current public health guidance with respect to COVID-19 when undertaking all activities.


Make a Donation
* EntsPay is providing this donation service free of charge to the organising societies, and has also agreed to sponsor all processing costs up to an agreed amount, to guarantee that 100% of your donation reaches the Irish Cancer Society and Wolfram Syndrome UK. If this agreed amount is surpassed, a maximum of 1.75% + €0.31 will then be deducted from further donations to cover the necessary card processing fees, and this page will be updated to reflect this. Feel free to contact support@entspay.com if you have any queries about your donation.