FilmSoc's Hollywood Gala
The Filmsoc Gala is here for its inaugural year. Taking place in the Singer's House above Lost Lane on Nassau Street on Wednesday February 5th at 8PM, we'll be getting together for a semi-formal good time! There'll be drinks, food, music and more. Tickets cost €15 and are gonna be on sale from tomorrow online through entspay and in the student center on Thursday and Friday from 10AM until 5PM. They'll also be available at all of our screenings and other events.
The Windy Ball 2020!
The annual Windy Ball is almost upon us! This year's ball, in aid of Pieta House, is on the 7th February in the Hilton Hotel, Charlemont Place (on the canal).
There will be a fabulous drinks reception from 7pm followed by a delicious three course meal, a raffle with some amazing prizes, and a whole lot of groovin! We'll then hop on a party bus at around 12:30am when the hotel start kicking us out and head to Brogan's Bar Dame Street to boogie til the wee hours.
Tickets are €43 and include a drink upon arrival at the hotel, a three course meal, and your party bus into Brogans, along with the best craic you'll have all year.
Deadline for buying tickets if the 30th of January so get em quick! Let us know as well if you've any dietary requirements.
We look forward to seeing you all dolled up on the 7th 😎
With love,
Sarah and Ciara, your Ents Gimps for the year 🌊
UCDVO Student Society Valentines Ball
The biggest event of semester two kicks off in the Hilton Charlemont on, you guessed it, Valentines day! The night is sure to be full of fun, catch ups and celebrations, as both returned and new volunteers get a chance to celebrate the charity.
The night will begin with a cocktail reception in the main lobby followed by a gorgeous 3 course meal, speeches and updates on some of the developments within UCDVO, the always successful raffle with some great prizes, and of course a DJ to let us dance the rest of the night away. We'll also have a photographer on the night to make sure to capture us all looking our finest.
This highly anticipated event is definitely not one to be missed, so make sure to grab your tickets early! Student tickets are €50 and non-students €60, with all profits going to the UCDVO charity.
If you've paid online you can collect your ticket at the door on the night or just call into our society office (located next to Street Kitchen near the Library SU) to pick it up.
UL Med Ball 2020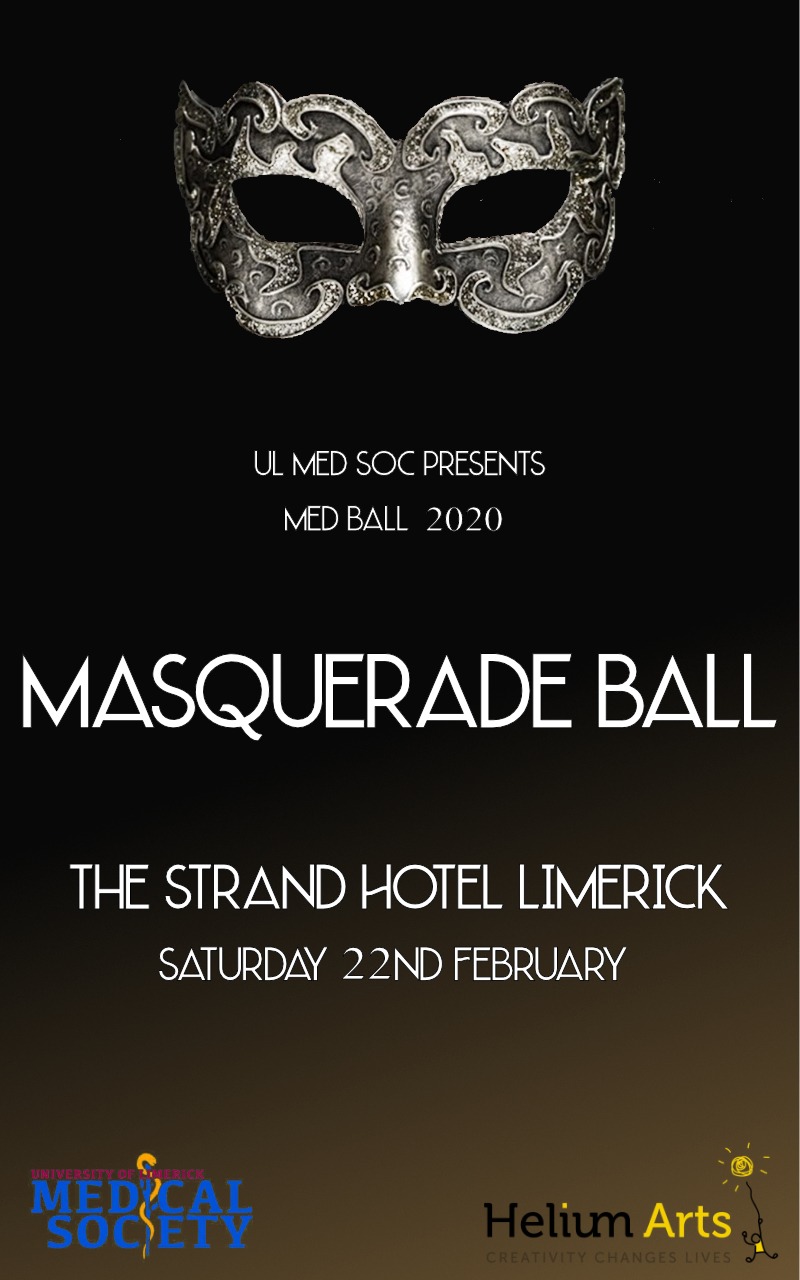 The Limerick Strand Hotel, Saturday February 22nd, 2020.
6.30 pm – Prosecco reception and dinner served at 8 pm