UCDSU RAG Week – The 2 Johnnies
UCD Students Union
Ag Building – Room announced soon, Tuesday 22nd January 2019
Doors 7pm – 9pm
ROAR // UCD Student Card Required
Buy Tickets Now

UCDSU RAG Week – Rebuke
UCD Students Union
Opium, Thursday 24th January 2019
Doors 10pm – 2:30am
ROAR // Over 18s' only // Government ID Required // UCD Student Card Required
Buy Tickets Now

UL Gems Kilkenny Trip
Class Rep
UL Gems 1 and 2 Class Trip to Kilkenny Tourist Hostel from Friday 8th to Sunday 10th of February.
Buy Tickets Now

Take Me Out: Shoot Your Shot
UCD Africa Society
UCD Africa Society presents our much anticipated annual Take Me Out: Shoot Your Shot Valentines' Day Edition. In this year's edition, our beautiful and unique ladies will be shooting their shot towards our panel of handsome and talented gentlemen. This year we are going all out with special guests performances along with amazing food! A night not to be missed, bants not to be forgotten and laughter to be enjoyed! See You There!
Friday the 15th of February 2019. Astra Hall, UCD Student Centre. Doors Open at 5.30pm
Online ticket €15, Tickets at the door will be on sale for €25
Under no circumstances will there be alcohol permitted on the grounds of this event. Security checks will be enforced to ensure safety for everybody and so that we can all have a good time.
Buy Tickets Now

UCD Fusion Ball 2019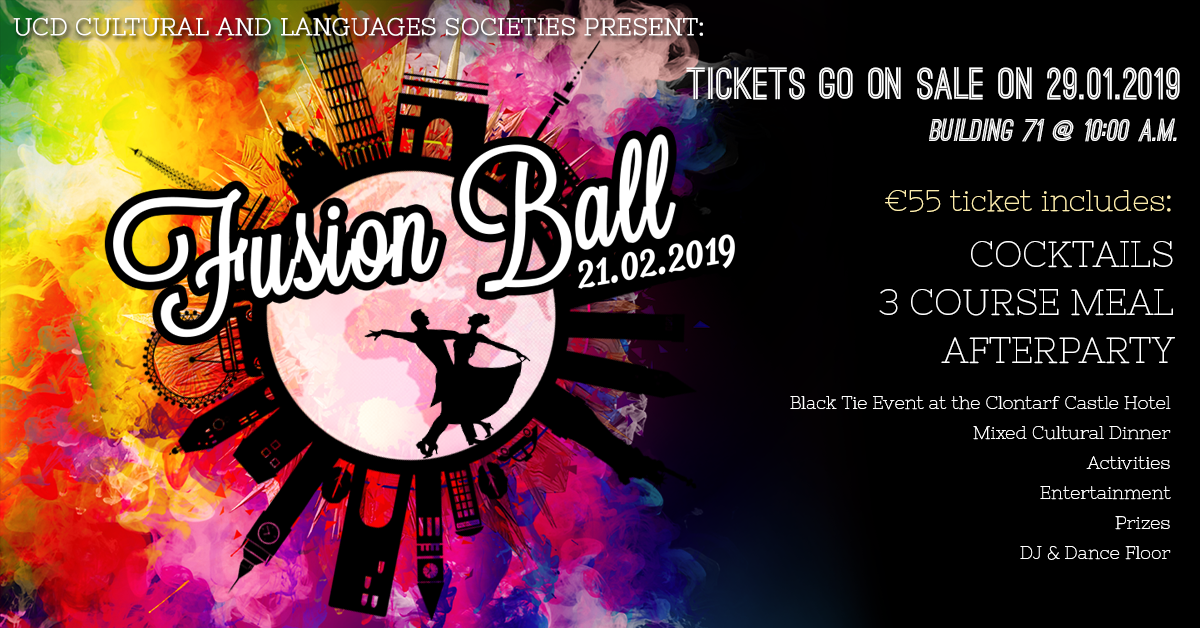 UCD Cultural & Language Societies
The UCD Cultural and Language Societies would like to formally invite you to the Annual Fusion Ball in Clontarf Castle on 21/02/2019.
This Annual event will be a cultural experience no UCD student will want to miss, with a concoction of cultural food, a lavish photobooth, memorable activities, and unforgettable entertainment.
By securing your ticket in advance you'll be guaranteed a
🌟 Cocktail Reception🍹
🌟 3-course meal 🥘
🌟 Activities & 🎭 🎸 Entertainment
🌟 Black Tie Event 👗 🎩
🌟 Hundreds of attendees
🌟 A chance to win an all expenses paid, trip abroad with Capture Travel ✈ ️
🌟 DJ 🎧 DanceFloor
🌟 Memories & Pictures 📸
So grab your suit or dress, and get ready for a full Admission Ticket @ €55 for the Fusion Ball! with a travel deal of €5 up and back to the Castle, because we just love you that much.
Buy Tickets Now

UL Med Ball 2019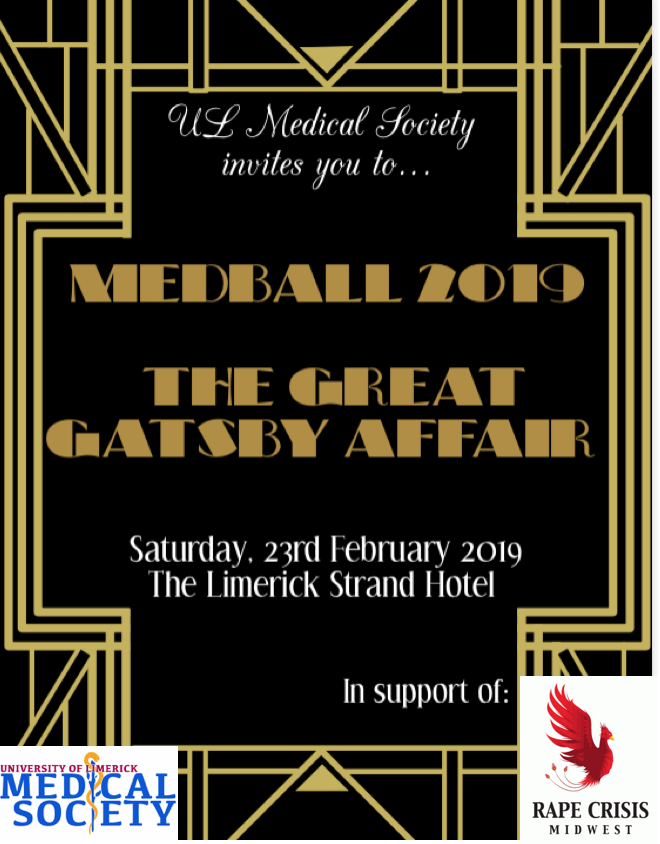 UL Med Ball 2019
The Limerick Strand Hotel, Saturday February 23rd, 2019; 6:30 pm Prosecco Reception and Dinner served at 7:30 pm
Buy Tickets Now

Unplugged 2019
Unplugged (Eire)
Unplugged is an annual college inter-varsity dance competition. It began in 2016 and is still a highly anticipated college competition. It will be taking place at the Victory Centre: 24 Firhouse Road, Tymon South, Dublin 24 on Friday the 22nd of March 2019. Doors open at 4pm and show starts at 5pm. There are early bird and standard tickets. Special guest appearances to be announced!
Buy Tickets Now

ASAI Ball: An African Fairytale
African Students Association of Ireland (ASAI)
The ASAI Ball is an annual ball hosted by the African Students Association of Ireland. It's aim is to celebrate the African culture through fashion, music, food and dance. The theme this year is; An African Fairytale.
Saturday 6th April, Damastown Industrial Estate, 6pm
Buy Tickets Now