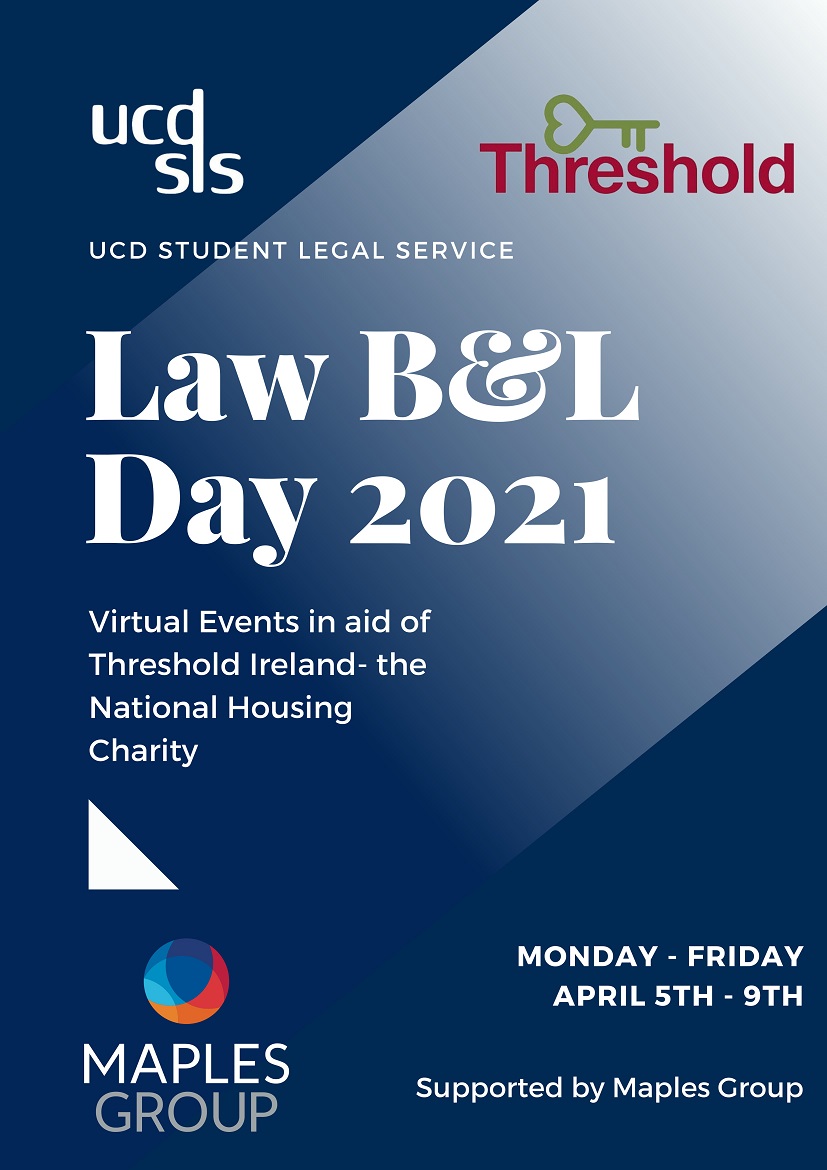 UCD Student Legal Service (SLS)
Our Charity Partner for Law B&L Day
Founded in 1984, Threshold is a non-profit organisation that seeks to prevent homelessness and provide housing assistance. Experienced, trained advisors are available to deal with all housing queries on their confidential telephone helpline and via email. Face to face appointment services are also made free and readily available to those renting and/or facing homelessness and who are seeking independent advice and support.
Threshold wish to share their vision of an Ireland in which everyone has a right to secure, affordable housing that is appropriate to their needs. They seek to accomplish this mission by campaigning for suitable housing delivered on a rights-based approach. They analyse existing housing problems and actively seek innovative approaches and solutions.
Homelessness has always been an issue that needs addressing, however we find that this issue has become increasingly important because of the arrival of Covid – 19. Homelessness has now become a public health priority. Covid – 19 has had major implications for those sleeping on the streets and on those residing in emergency facilities. The necessary introduction of Public Health guidelines and the social distancing provision has led to the 'thinning' out of most hostels in the system. Alternative emergency accommodation has been urgently sourced, especially since a total of 288 beds had to be vacated. Additionally, three existing hostels were closed at Merchants Quay, Ellis Quay and Aungier Street for this same reason. In total, it was necessary to source 437 new beds. On Monday the 27th of July 2020, Dublin City Council reported the deaths of five homeless individuals. This is an unprecedented high number. While not covid related, it proves the significance of the matter at hand.
Given these significant implications on the lives of those facing homelessness, we value and appreciate the work that charity partners such as Threshold, in collaboration with the DRHE and HSE, carry out to overcome this pressing issue during this challenging time. The work carried out by Threshold has saved many lives and proves invaluable, especially during a crisis like the one we currently face.
Families all over Ireland experiencing homelessness will face hardship at this moment as restrictions around the country begin to lift. We believe that this is a charity everyone will be able to support as it is such a prevalent cause for concern and is evident throughout the country.
Itinerary
| | |
| --- | --- |
| Monday 5th April | Table Quiz |
| Tuesday 6th April | Speaking Event with the CEO of Threshold, the National Housing Charity |
| Wednesday 7th April | Keynote Address from the Lord Mayor of Dublin Hazel Chu and Guest Speaker Norah Casey |
| Thursday 8th April | Mindfulness Evening with Niamh Hannon from Mindworks |
| Friday 9th April | Live Fundraising Raffle Draw Event |
Make a Donation
* EntsPay is providing this donation service free of charge to UCD Student Legal Service, and has also agreed to sponsor all processing costs up to an agreed amount, to guarantee that 100% of your donation reaches Threshold, the National Housing Charity. If this agreed amount is surpassed, a maximum of 1.75% + €0.31 will then be deducted from further donations to cover the necessary card processing fees, and this page will be updated to reflect this. Feel free to contact support@entspay.com if you have any queries about your donation.