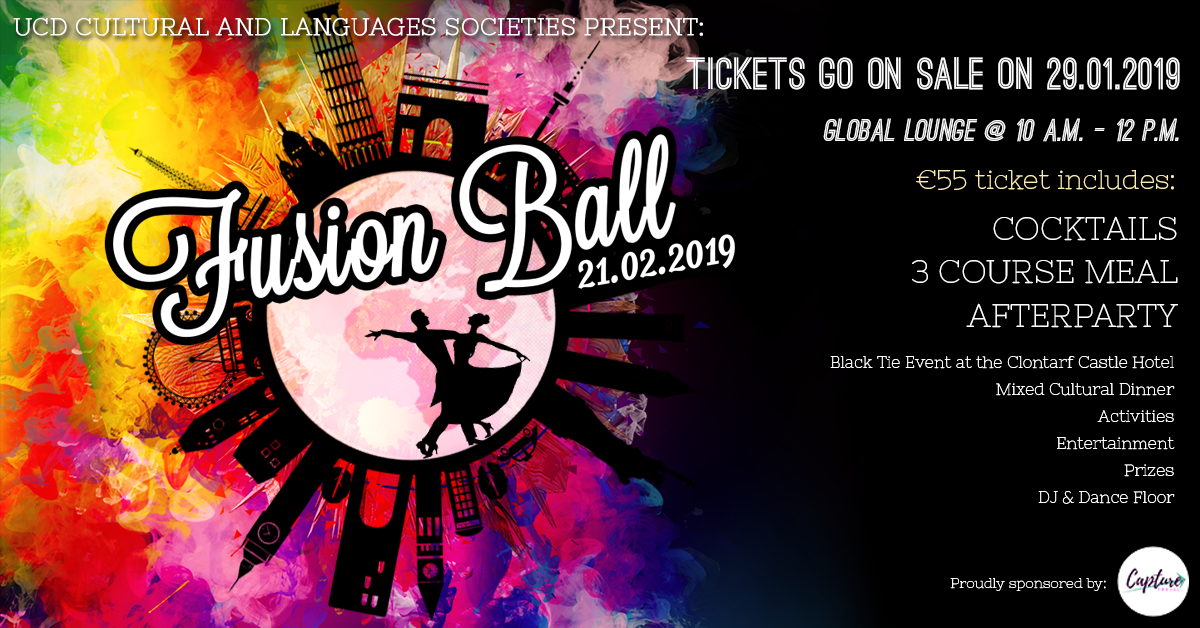 UCD Cultural & Language Societies
The UCD Cultural and Language Societies would like to formally invite you to the Annual Fusion Ball in Clontarf Castle on 21/02/2019.
This Annual event will be a cultural experience no UCD student will want to miss, with a concoction of cultural food, a lavish photobooth, memorable activities, and unforgettable entertainment.
By securing your ticket in advance you'll be guaranteed a
🌟 Cocktail Reception🍹
🌟 3-course meal 🥘
🌟 Activities & 🎭 🎸 Entertainment
🌟 Black Tie Event 👗 🎩
🌟 Hundreds of attendees
🌟 A chance to win an all expenses paid, trip abroad with Capture Travel ✈ ️
🌟 DJ 🎧 DanceFloor
🌟 Memories & Pictures 📸
So grab your suit or dress, and get ready for a full Admission Ticket @ €55 for the Fusion Ball! with a travel deal of €5 up and back to the Castle, because we just love you that much.
Online Tickets are on sale NOW! And will be at Global Lounge on Jan 29th.
______________________________________________________
A special thank you to Capture Travel for their continuous generosity and great students deals!
and to the amazing societies involved:
1. International Student Society
2. Japanese Society
3. Arabic Society
4. Indian Society
5. Chinese Student & Scholar Association
6. Malaysian Society
7. Erasmus Student Network

Purchase Tickets